SBOTD Presents: Kit Cope, Professional MMA Fighter and Personal Trainer
Sports Babe of the Day Presents:  Kit Cope, Professional MMA Fighter and Personal Trainer, @KitCope on Twitter
What do you get when you eat clean, work out, train others, and still find time to go out for a hike? Well you get a sick six-pack and muscles for days, also known as a ridiculously sick body. Couple a rock solid body with a sense of humor and then what do you get? Don't stress, I'll answer that for you. You get today's Sports Babe of the Day, Kit Cope!
Now, some of you may be scratching your heads wondering where you've seen this guy. You probably know him from MMA. With all of his wins coming from either a knockout or a submission, he's shown that he's pretty dominant once he's in the cage.  You may know him from his Muay Thai fighting days, where he is the former IPMTO Light Heavyweight Muay Thai World Champion. With an impressive record of 23-1 and 9KOs, it's pretty hard to not think of Kit Cope when talking Muay Thai fighting.  You may remember him from his time on MTV's True Life, where they followed his training and preparation for his trip to fight in Thailand. Not only was it a bare-knuckle fight, but he won by knockout in the first round. Or you may just recognize him as the guy that puts athletes like Ken Block and Carey Hart through the ringer during a training session.
No matter how you know him, you still arrive at a guy who is 6'0," 170lbs and all babe. So without further adieu, get to know Kit Cope in:
20 Questions with Kit Cope: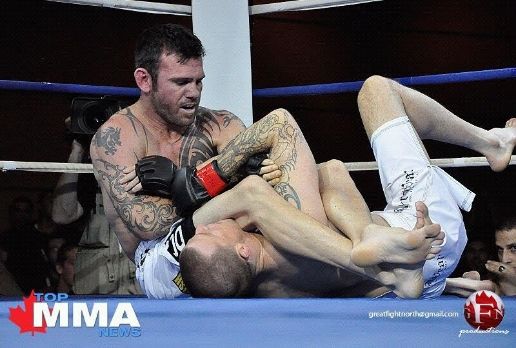 1. How did you get into Muay Thai?
I was actually looking for something to keep me in shape between wrestling seasons in high school and I found Master Toddy's Muay Thai Gym. I started after freestyle and Greco season and ended up on the US Kickboxing team later that year. After 8 years of wrestling I had to make the decision of goin to Reno and wearing my school colors or going to Thailand in red, white and blue! I toiled with it for awhile, but then I learned that there's no drinking age in Thailand.
2. What made you want to transition into MMA fighting?
I had done everything possible in Muay Thai. I had 4 professional world titles, one of which is from Thailand. I had a Thailand bare knuckle title. I had fought in 12 countries. AND I made almost a thousand dollars! MMA was a new adventure and it paid a lot better.
3. Do you have any specific pre-fight rituals or routines?
I'm not a really superstitious guy, but I do have a few things that I have just always done, so I keep doing em. I stay up late, sleep in late, play my Bop-it, and try to abstain from sex. I say try because the ritual is to have the intention of abstaining and then reluctantly giving into temptation a night or two before battle.
4. What advice would you give to someone looking to start fighting MMA?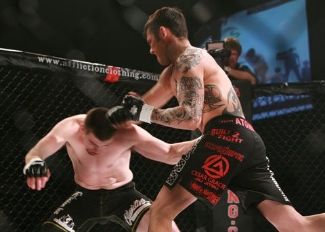 The most important thing in making the decision to start fighting is to have a come-to-Jesus talk with yourself and figure out the why and if. Why do you want to fight? Because it's the hip thing to do and you want to stop lying by saying 'I'm a fighter' and actually do it? Because you think you're tough? Because you have the tattoos for it? Because you wanna get laid and have no other game? IF those are the reasons, figure something else out. If you were BORN with a penchant for beating people up, if you are ready to put EVERYTHING else in your life on the backburner, if you are prepared to make the difficult task of maintaining a relationship even harder, then I say find a mentor and get started.
5. If you could feature any fight you want, which MMA stars would be in it?
Besides me and David Terrel or John Wayne Parr? I would like to see Nick Diaz and GSP, which is already happening! I will actually be up in Stockton in a week to help him get ready for it as well as helping Nate get ready for Josh Thompson.
6. From a little Instagram creeping, I notice you train a lot of action sports athletes. What kinds of exercises do you put them through?
I also train a few fighters actually. Both King Mo and Jorge Lopez are my projects. I do Love training my action sports guys like Ken Block, Bj Baldwin and Carey Hart. Beyond just the general fitness aspect of our training, my guys go through a series of exercises that are sport specific to their respective professions. Some of them need more muscular endurance than others, which is different than cardio respiratory endurance. I work with them all on exercises that improve core strength, mobility, reactionary speed and calculation and cognitive speed. BOOM! BRAINIAC!!! Kit Cope, not just another pretty face with a six pack!
7. Also from Instagram, I see you have a pitbull (adorable by the way). What made you adopt a pitbull over a different breed of dog?
I've always Loved pitbulls. I have done a lot of work with some pitbull awareness and rescue agencies. More people need to take these awesome beasts out into the world and show people that they are sweethearts and they're not to be feared. It's the dipshit owners that you gotta watch out for. I have loads of statistics that I throw around, but one of the key ones is that in canine tolerance tests where dogs are antagonized until they become aggressive, pitbulls rank as the 2nd MOST tolerant dog behind golden retrievers.
8. If you weren't an MMA fighter or trainer, what do you think you'd be doing?
If I wasn't doing this, I would probably be doing more TV. I really like entertaining. I will probably end up doing more of that in the future. I have fallen in Love with racing though. It is more fun than public nudity.  I actually have my eye set on racing rallycross as soon as next season! I'll keep you updated. Then again, tugboat captain and Riverdancer sure look fun too!
9. What does a typical day entail in the life of Kit Cope?
I never have the same day twice. I travel a lot and abhor boredom so I try to change it up constantly. If I have down time at home I will train some Muay Thai or Jiu Jitsu and then play some golf or go shooting or do some garage work welding or working on the truck or go ride my motorcycle and then maybe see a local play or hang out with some friends. I'm only afraid of two things in this world: Boredom and sharks, but only in a water scenario. I see a shark in a dark alley, I'm whoopin his ass!

10. What's the craziest thing you've done lately?
Crazy? Is fighting crazy? Is driving in a rally car crazy? Is prerunning the Baja 1000 crazy? Wheelies on the freeway? OOH, I know! I took one of my fighters to Australia for a fight that I trained him for and ended up replacing another fighter on a day's notice. Yes, I won by TKO in the 2nd round.
11. If we looked in your refrigerator right now, what would we find?  
I eat pretty clean. I'm on the road right now, but if memory serves there is a bunch of organic wholesome goodness and some Virgil's Vanilla Cream Soda. It's my favorite treat!
12. Where did it suck the most to get tattooed?
All tattoos hurt. Anyone that says different is either lying or way tougher than me. The suckiest was actually when I got my left arm done. I was in the middle of an eight hour session and I had to leave to pick a friend up at the airport. When I came back everything was all swollen and red and then we dove back into it for another 4 hours! Lesson learned. Don't take breaks.
13. If you won the lottery, what would you do with the money?
After my family and friends were taken care of, I would make sure I invested enough to keep money coming in. Then I would probably fund my racing career and start an MMA promotion where I could pay fighters what they deserved.
14. Are you more of a mountains or beach kind of guy?
Do I have to choose? I like them both. I'm actually more of a lake and river guy than an ocean guy. I Love the mountains, but I hate the cold. So, if I had my druthers, I would do mountains in the summer and beach in the winter. Or just go to someone else's summer.
15. The ladies want to know, are you single, dating, or locked down?
Oh do they?! Well, let them know I am single. It's not that I just Looove being single. I'm just taking applications to find someone that's awesome enough to change that status!
16. What is your idea of the perfect date?
Is this a first date? I think the standard dinner and movie date is traded. You've either got food in your mouth or paying total attention to something other than your date! First date should be something fun that you can do together that doesn't take too much attention from eachother. Something like hiking or golfing or shooting pool where you can still talk and get to know eachother. I like a bit of competition on a date as well. Nothing brings out who somebody truly is like competition and actually doing something tends to distract people from concentrating so hard on holding up a front and trying to be perfect.
17. Tell us one thing about you that most people don't know.
That's a tough one. I've been pretty open in my interviews through the years. My mum and dad are two of my absolute best friends. I actually have a brain in my skull and it works really well. I want kids. I am a ferocious cuddler.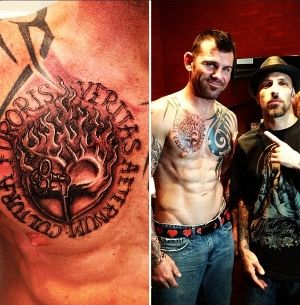 18. If you had to choose a motto that defines how you live your life, what would it be?
I have a tattoo on my chest that defines exactly that. It is two statements: Cultura Furoris and Veritas Aeternum. Breaks down like this: Cultura – cultivate or grow, Furoris – passion/Love/fury/rage, Veritas – truth, Aeternum – always or eternally. I live my life in search of happiness.
19. Any guilty pleasures that we should know about?
None that I feel guilty about!
20. Who would YOU feature as Sports Babe of the Day?
Probably Ronda Rousey or Meghan Hardin or Alex Morgan or Alana Blanchard. They're all gnarly sports babes. There is nothing sexier than talent and dedication. There are a ton of super gorgeous women in bodybuilding's bikini division as well. Girls like Dianna Dahlgren, Nathalia Melo and tons more.
Not only does he work hard, but he also plays hard. And yes ladies, he is single. If you can keep up with his crazy travel schedule and love a cuddly pitbull, maybe Kit Cope is the guy for you. Not only is he a stellar fighter, but he has got a good head on his shoulders and a killer sense of humor too. Like I said, ALL babe.
If you'd to submit your girlfriend applications to him, go follow and tweet him at @KitCope on Twitter.
You can also check out pictures of his travels and his very handsome dog on Instagram (@KitCope)
And while you're at it, go sauce him a like on Facebook and check out his website!
(Photos Courtesy of Kit Cope)
The following two tabs change content below.
Latest posts by BDBWriter (see all)