SBOTD Presents: Trennon Paynter, Olympian and Canadian Ski Halfpipe Coach
Sports Babe of the Day Presents: Trennon Paynter,Olympian and Canadian Ski Halfpipe Coach, @TrennonPaynter on Twitter
All of the winter athletes have Sochi on the mind, and BabesDigBalls is no different. See, while the focus of all the attention in Sochi will most likely  fall solely on the athletes competing, behind every athlete is a great coach. One such coach is Trennon Paynter. If you're Australian, you've definitely heard his name before. He competed in the 2002 Winter Olympics on Team Australia in the ski moguls competition. If you're Canadian, you've probably heard his name before. I mean, he is widely recognized as one of the best ski halfpipe coach in the world, and he's coaching your team.
If you've caught any of the major competitions on TV this winter alone, you have been catching his work regularly. At the 2012 Dew Tour stop in Breckenridge,  2 Canadians placed in the top 6 in the women's freeski halfpipe competition with Roz Groenewoud standing in 3rd. On the men's side, Justin Dorey took the top of the podium and teammate Mike Riddle joined him on the podium in 3rd. At the Grand Prix in Copper Mountain, Roz Groenewoud took second in the women's competition. Mike Riddle won for the men. And at Winter X, while it was a hard day on the mountain for the guys, the women's team took 2nd, 3rd, and 4th in the competition. Like I said, all winter you have been seeing his work and with the introduction of the Ski Halfpipe competition at the 2014 Winter Olympics, you will be seeing a lot more of it.
If you're American and by some weird chance coincidence haven't heard of him before, you will most definitely be hearing his name a lot more in the future, but you should get familiar with it now. So without further adieu, get to know Trennon Paynter!
 20 Questions with Trennon Paynter
 1. How did you get into skiing?
Both my parents were ski racers, so they got me started as soon as I could stand up. Plus the town I grew up in had night skiing so I could ski every day of the season, which was awesome. Got hooked early and the rest was history.
 2. Where is your favorite place to ski?
This resort in the Swiss Alps called Meiringen/Hasliberg. It's where I skied in my first World Championships, and while we were there we had incredible freesking sessions. It has that epic European mountain scenery, and terrain that's like a natural freestyle park.
 3. Do you ever snowboard?
I do, still working on perfecting my McTwist, but so far it's a powder day-only move.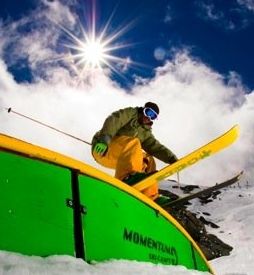 4. You've been known to ski in just about every discipline out there, which is your favorite?
I love all types of skiing for sure, but given a choice right now I would take some steep, deep, powder lines, peppered with sweet booters all lined up with soft landings.
5. What's the hardest thing about coaching?
Finding the best approach for each individual, everyone is so different. You really need to change coaching tactics and style constantly depending on who you are talking to.  Logistics are a challenge for me too, especially now that our team and staff size has pretty much tripled since Ski Halfpipe got accepted into the Olympics. But honestly I feel like I've got the greatest job in the world and definitely wouldn't trade it for anything right now.
 6. At Winter X 2013, your girls went second, third, and fourth. How cool would it be to see an all-Canadian podium at the 2014 Winter Olympics?
Cooler than a Polar Bear's toenails!  Cooler than the other side of the pillow. Cooler than….  well let's just say that we're working on it….
 7. If we had to ask your team to describe you in 3 words, what do you think they would say?
Hahaha no idea so I just asked them, it was a tossup between "Bad ass dude" and "Attention Deficit Disorder"
 8. Do you prefer the sand or the snow?
Don't make me choose, I love it all! But since I generally spend more days every year on snow, I would probably choose a trip to some perfect waves if a choice was offered to me at this moment.
 9. What place is your favorite that you've traveled to?
Treachery Beach, Australia, it's this amazing camping spot that's relatively quiet and remote, with great beachbreak waves right out front and a nice right hand point break around the corner. Crystal clear water, dolphins everywhere, and the campsite even has a legend about a monster that lurks the sand dunes at night, it's perfect.
10. What trick were you doing the last time you landed in a hospital?
It was nothing too extreme, just a 180 on one of the jumps in the Blackcomb terrain park and a ski randomly popped off when I landed. Broke a couple ribs pretty good, which wouldn't have been too bad except for the fact that I had to leave for contests with the team the next day. That was a pretty rough month on the road, but I've got a good bunch of athletes and they carried my bags around for me.
11. Any guilty pleasures we should know about?
Candy, Tim Hortons donuts, extra spicy Ceasars.
12. If we took a peek into your refrigerator at home, what would we find?
Probably a bunch of candy, Tim Hortons donuts, and extra spicy Ceasar mix.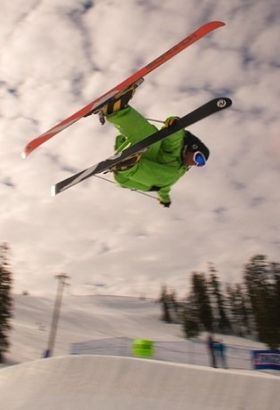 13. When you aren't traveling all over the place, what are you doing?
Hanging out at my house in Squamish, jumping on my trampolines, dirt biking, mountain biking, flying small airplanes, swimming in the lakes, skateboarding, tinkering in the garage.
14. What is one of your biggest pet peeves?
Escalator standers/blockers. I mean c'mon, if your legs really stop functioning the second you step on to those things, you could at least leave room to pass for those of us who still have the capacity to walk up and down stairs.
15. What's the craziest thing you've done lately?
Agreeing to be a "Sports Babe of the Day" hahahahaha
16. If you had a pick a motto to describe how you live your life, what would it be?
Do fun things with good people
17. Besides your team, who are some of your favorite skiers to watch?
My Mom, Sergei Shupletsov, Hermann Maier, Edgar Grospiron, Candide Thovex, Scot Schmidt, Jean=Luc Brassard, TJ Schiller, Hugo Harrison, JP Auclair, Harkin Banks.
18. Normally this is where we ask if you're single or taken, but since I know you are taken by the very lovely Rachael Ryan, how did you two meet?  
It's kind of a long story, I guess the condensed version would be: lots of mutual friends, a great reference from one of them, and a really crafty and aggressive Aprils Fools day trick on her part that had me worried for a while that she was a psycho, but in the end convinced me that she was a beautiful badass with a great sense of humor.
19. What is your proudest accomplishment to date?
Seeing the program that started with myself, and a few athletes, privately creating our own team, develop into the official Canadian National and Olympic team.
20. Who would YOU feature as Sports Babe of the Day?
Hmm, well if we can consider kicking ass a "sport", then I'm going with Scarlett Johanssen's character from the Avengers.  If comic book movie characters are off limits, then I would Maya Gabiera or Jolene Van Vugt, because those girls are out there doing gnarly stuff that would make most tough guys pee their pants.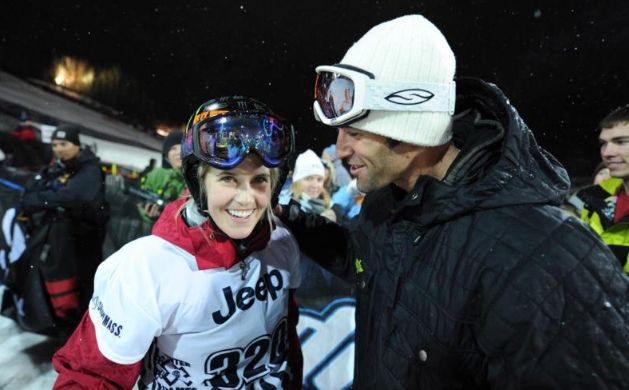 Sorry ladies, yes, he is taken. But hopefully that doesn't deter you from rooting him and his team on this winter and in 2014 Winter Olympics. I mean, he's cooler than a polar bear's toenails! How could you not root for him and his team? Thanks Trennon for a fun interview and go sauce him a follow on twitter (@TrennonPaynter).  Go Canada Go!
(Photos courtesy of Trennon Paynter)
The following two tabs change content below.
Latest posts by BDBWriter (see all)